Two distinct groups of Yeo families are associated with the north Devon parish of Bradworthy. One became established in the 16th century or earlier in the north west of the parish, close to the border with Hartland and Woolfardisworthy, where their connections might lie. The other moved in the 18th century to the Alfardisworthy area in the south west of the parish, where its border with Kilkhampton runs along the line of the River Tamar. These Yeos had close connections to family nearby in Kilkhampton (where they worshipped, perhaps because the parish church was closer than the parish church at Bradworthy) and later became involved with the nonconformist movement.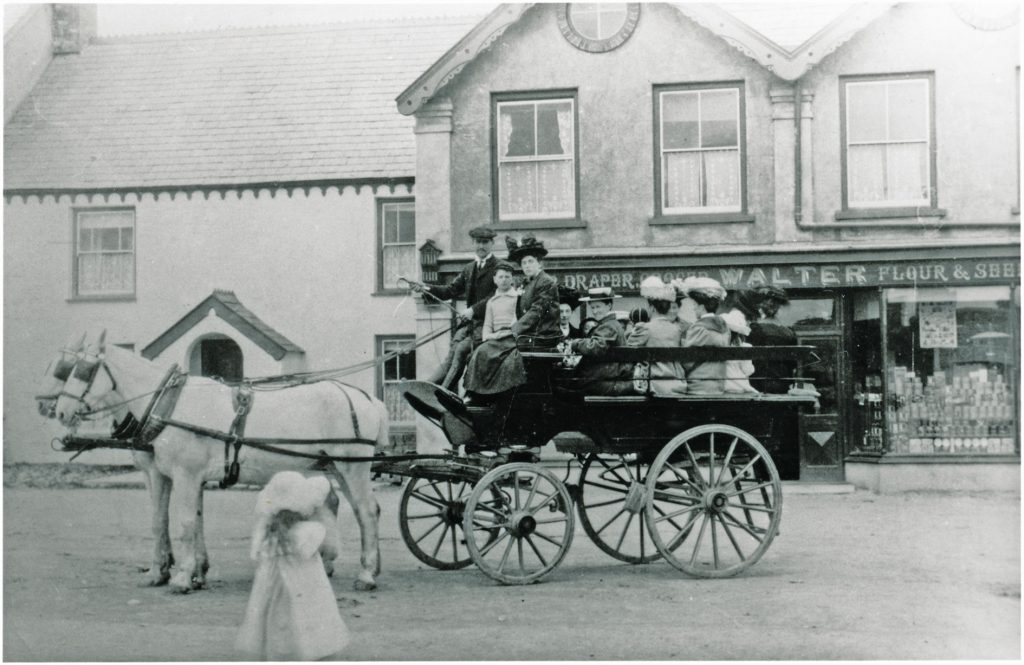 Both groups have been studied, the first by Bradworthy historian Cecil Collacott and the second by Humphrey Toms and Reg Walter, who demonstrated that Collacott's asserted connection between the two groups was erroneous.
In 1998 Sheila Yeo drafted – but did not use – a piece for her web site entitled 'Yeos in Bradworthy 1550–1600'. This text reads as follows, and might stimulate discussion:
This particular piece of Yeo history is of extreme importance. It holds the links to several branches of the Yeo clan, especially the Stratton line. Unfortunately all the early wills are lost, plus the baptisms for Bradworthy prior to 1600. Other sources such as lay subsidies, muster rolls, will indexes, Visitations and Bradworthy parish registers (burials) all conflict. It is obvious there are several families living in this parish during this period, but which records relate to which family?
In 1524 (the land subsidies) there is a John Yeo holding land and a John Yeo and Robert Yeo paying tax on goods. However, the Visitations show that the Fulfords, Grenvilles and Giffords all held land in Bradworthy and through marriages were connected to the Yeos. It is quite probable that Robert was part of this line.
In Martin Fortescue's inquisition post mortem (1472) one of the witnesses is a William Yeo of Atteworthy. The main Yeo family shown in the Visitations was heavily involved with the Fortescues; William Yeo who married Joanne Fulford never lived at Heanton Satchville, having died before Robert, who died in 1528. William and Joanne had sons Humphrey (who moved to London) and Robert (who married Mary Fortescue). No will has been found for the former, although different chancery causes show he was alive until 1570. He does not appear in the 1569 muster rolls for Petrockstowe, so perhaps he agreed a marriage settlement with the Rolles for his daughter Margaret before his death and then moved to Bradworthy. Could this be Robert Yeo of Atworthy (will 1572)?
The alternative is that William Yeo and Ellen Grenville [see Or was she called Ellen?] did have a younger son called Robert and that he is the Robert that died in 1546 at Bradworthy. He could have had sons Robert and John Yeo. Certainly in 1543 (land subsidies) there are a Robert senior, a Robert junior, a John senior, a John junior and a William.
John Yeo senior (of Redmansford) died in 1575 and he could have been married to Joane, who appears in several chancery causes around this time. He had a son John Yeo, who could be the John who died in 1587. This John could have been the father of Robert Yeo (born 1565) who married Alice Kelly. This could also be linked to John of Launcells, as John Anderton had many lands in Launcells. One of the reasons for this statement is that John of Launcells married Frances Holman (and he died in 1625). The Church rates for Bradworthy in 1628 show a Francis and Robert Yeo linked together, paying the church rate. There is no mention of a Francis, but certainly a Frances Yeo of Bradworthy had a will proved in 1649. There is also a Robert Yeo buried at Bradworthy in 1641/2 (Robert Yeo of Weare Gifford left a will in 1637 but they appear to be different people). Robert, who married Joane Squires, appears to have moved to Weare Gifford.
However, if Robert of Bradworthy (died 1641/2) was a different person, then he was connected to John Yeo of Launcells and could be the Robert (gent) who married Jane Collyn (widow) at Launceston in 1597, and possibly a nephew of Robert who married Alice. Robert married Joan Squires, moved to Weare Gifford and seems to have died there. This indicates an association with the Fortescues who owned Weare Gifford, one of the main strongholds in Devon during the Civil War.
Where did the Stratton. Hartland, Bradworthy branches spring from? There is a strong influence of the name Nicholas through them. In the Visitations, there was a Nicholas Yeo, son of Robert and Alice Walrond, plus an Edward and Robert Yeo. I think this is the Nicholas who died at West Putford in 1576. He was certainly very wealthy. Richard Yeo, who appears there in 1581, has to be Richard of Hartland. as several chancery causes have linked this. It is probable that Nicholas Yeo of Stratton and Bradworthy was Nicholas's son. Edward appears to also have moved to north Cornwall, and the name is linked to Launcells and Launceston. One of the reasons for this move appears to be connected to the Grenvilles as Thomas Grenville (brother-in-law of William Yeo) held the manor of Treburtell in Tresmeer, of which the Yeos appear to have been part of a feoffment, along with several other lands in that area.
Treyeo in Launcells appears to have belonged to the Launcells branch. Robert Yeo has to be Robert of Shebbear. The dates are wrong for him to have been the son of William and Ellen Grenville [see Or was she called Ellen?]: he died in 1572. However I do think there was a John Yeo born to William and Ellen. Several causes I have cited mention a John Yeo of Braunton linked with Robert Yeo of Heanton. This John has to be the one mentioned in 1515, whose children were John, Hugh, Lewis, etc. and the heir John could also be linked to Stratton or Bradworthy as he certainly doesn't appear in Braunton in 1524 although we know he was alive. If John is not the son of William and Ellen, then it is possible he was the son of Richard Yeo of Bradworthy or Bradwyll.
There are a lot of 'appears' in this piece and all this has to be proved, but it is perhaps a challenging focus on the 'Bradworthy problem'.
If you have a Bradworthy connection, please use the Contact Us page to send us a message.