Many surnames derive from an occupation. Examples of such occupational names are Butcher, Cooper, Paynter, Tailor, Tanner and Thatcher.
Others are derived from a location, such as Dale, Field, Forrest or Hill. Like these, the surname Yeo – as well as its variants, see Further surname variants – is a locational name. So it is not surprising to see early references to 'at Yeo' or 'atte Yeo' (the variant Atyeo has survived).
Because it arose spontaneously in a number of places in south west England, not all families with this surname are related; researchers who have assumed this have failed to find a single point of origin. At least ten separate locations have been identified.
John Prince, writing in about Alwington 1701 [note 1] in the elaborate language of the time, appears to have given the earliest explanation, and for a time many researchers took his statement as definitive: There was a fair dwelling named Yeo in the parish which gave its name to its inhabitants, which, as it is supposed, it took from a fair stream of water near by, in the old Saxon language called 'ey' or 'e'a,' and in the French 'eau,' and hence corruptly 'yeau,' and at last Yeo. Prince's reference to a Saxon derivation appears to be erroneous – see the comments about Nymet in the next paragraph. Research by Sheila Yeo suggested that the family at Alwington was originally called Giffard, which (from its location) became Giffard atte Yeo and later Yeo.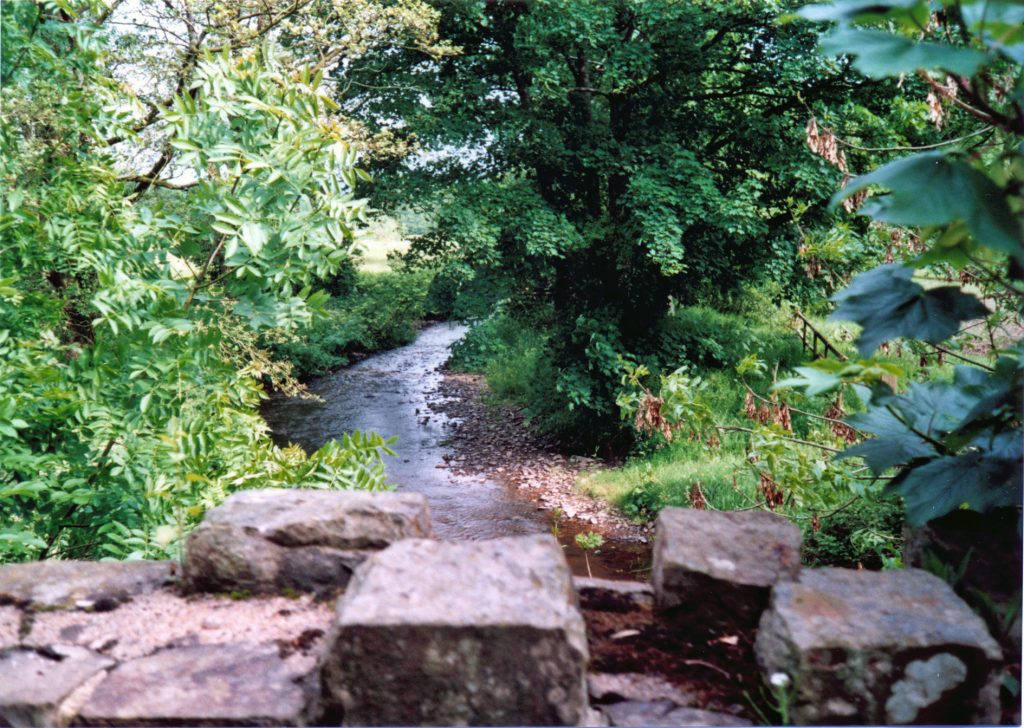 The late Crediton historian Thomas Venn [note 2] commented: Whether the River Yeo is styled from the Celcic eo = yew or from the OE for water, the pundits are still debating; but the surnames Ya, Yea, and Yeo have generated therefrom. This Old English word yeo probably has its origins in Norman French, and is similar to the modern French word eau. Prior to the Norman conquest the Anglo Saxon word nymet (river or stream) was used, and survives in Devon place names such as Nymet Tracey.
Humphrey Toms and Reg Walter looked for other places in Devon with similarly derived names, such as:
– West Yeo, a farm on the Little Dart River near Witheridge ('west yeo' perhaps meaning 'west of the water')
– Treeyeo, a farm on the River Troney west of Spreyton
There is also a farm called Treyeo in the parish of Launcells.
Toms speculated further on the existence of five River Yeos in Devon [note 3] and the emergence of different Yeo families, citing:
– A grant of land at Westhill, Ottery St Mary to John Giffard of Yeo [note 4]
– A 1443 reference to Yoewton, beside the River Yeo in Crediton (1443) [note 5]
– A 1721 burial record from Bickington, 'John Wotton of Yeo June 16 1721'
– A reference to 'West Yeo in Witheridge' [note 6].
Surviving place names in south-west England include:
– The River Yeo in north Devon, a tributary of the River Taw
– The River Yeo in Somerset and Dorset, which flows close to the town of Yeovil and the village of Yeovilton
– The River Land Yeo, on the North Somerset Levels
– South Yeo, a farm at Northlew
– Yeo Farm on the River Avon in the parish of Woodleigh
– Mills called Yeo Mill at Chagford and near West Anstey
– Yeo Mill Halt, a former railway station near East Anstey
– Yeo Copse at Witheridge.
In the Australian state of Victoria there is a small town called Yeo some 80 miles south-west of Melbourne.
There are also these early references:
– 1242, Devon (subsidy roll): Geoffrey de la Ya [note 7]
– 1257, Somerset (assize roll): Alexander de la Ya
– 1340, Somerset (pipe roll): Richard att Yea
– 1378, Devon: tenant farmer John Newecomene atte Yeo [note 8]
– 1410, Devon (deed of assignment): John Whyte of Yeo, Goodleigh [note 9]
– 1439, London: Nicholas Yoo
– 1593, London (marriage): Daniell Yoo [note 11]
– 1594, London (marriage): Julia Yea [note 11].
An investigation by Eve McLaughlin [note 12] is relevant in this context and to the Yeo descendancy, including her comments about the pronunciation of the surname.
If you have comments on this subject or the sources referred to, please get in touch via the Contact Us page.
Notes
1. As quoted by Thomas Westcote in A view of Devonshire in MDCXXX with a pedigree of most of its gentry, William Roberts, Exeter, 1845.
2. Thomas Walters Venn, History of Crediton, revised edition, 1972 (typescript, formerly held at the Westcountry Studies Library), p.222.
3. Typewritten letter to Humphrey Toms, 17 February 1969.
4. Deed dated 1 July 1438.
5. Modern spelling Uton.
6. White's Directory of Devon for 1840, p.346.
7. Historical Research Center 'Family Name History Certificate 28719' dated 17 May 1994.
8. 'On 9 May in the 1st year of the reign of King Richard II (1378) John Nywcomene paid 2s rent as a tenant in the Manor of Chagford, later he is recorded as John Newecomene atte Yeo paying 6d, atte Yeo meant that he lived at the freeholding of Yeo (meaning 'water'), a property on the South Teign River, which lies amongst a tangle of medieval lanes to the southwest of Chagford. The present farmhouse … is mainly of eighteenth century date. But in the yard … stands an even older [building originally used] as a dwelling. This, all on one ground floor, may well date from the fourteenth century and could have been the home of Walter atte Yeo [note 10] who is named in a tax assessment of 1332. Even this was probably not the first house on the site; I think it highly likely that Yeo was one of the Domesday farmsteads in the manor of Chagford.' From Peter R. Newcombe, A Short Account of the Newcombe Family of Braunton, their Kindred and their Origins, published privately by the author, 1994.
9. 'The rent of 1 close which John Whyte holds in Yeo in the parish of Goodleigh' (from p.284 of a calendar of inquisitions from the reign of Henry IV).
10. A 1366 grant of land in Barnstaple to 'Walter atte Yoo of Barnestaple and Isabella his wife' might be Newcombe's source. See p.438 of Vol. 1 of Devon Feet of Fines, eds. O.J. Reichel, F.B. Prideaux and H. Tapley-Soper, Devon and Cornwall Record Society, Torquay, 1912.
11. See Marriages – England and Wales.
12. See Research by Eve McLaughlin.