Richard Yeo (c1553–1613, son of John Yeo of Stratton) married Isabel Dayman at Hartland in 1578. They baptised at least four children [note 1] at Hartland:
– Charles Yeo (1580–1650, married Audrey Issack, three children)
– Justinian Yeo (see below)
– Hugh Yeo (1587–1642, married Joane Surfield and Margery Cary, four children [note 2])
– Anne Yeo (baptised 1590, married John Blagdon).
Justinian Yeo (1583–1649, son of Richard Yeo and Isabel Dayman) married Jane Tucker at Hartland in 1613. They had eleven children. including:
– Richard Yeo (1614–1695, married three times, three children [note 3])
– William Yeo (baptised 1616 [note 4])
– Hugh Yeo (baptised 1623, died in Virginia c1680)
– Susan Yeo (baptised 1624, married George Dennis)
– Justinian Yeo (1627–c1700, married three times, six children)
– Deborah Yeo (baptised 1628, married William Cleverdon in Virginia).
Can you trace your line from this family? If you can, please use the Contact Us page.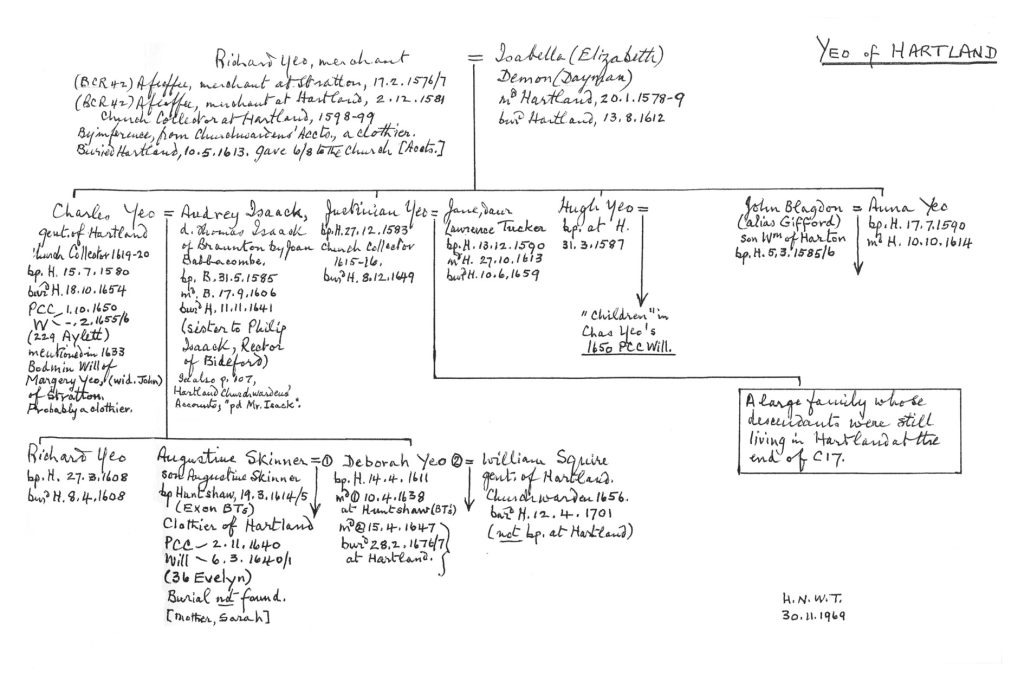 Notes:
1. Other children might have included a daughter Radagon and sons Richard and Peter. Isabel's surname is also recorded as Dayment.
2. Hugh was a merchant who moved to Bristol and was involved in trade with the West Indies and North America. His sons were also involved in the business – one of them, Charles Yeo, moved to London. Hugh's son Abraham Yeo, who died in Barbados in 1655, was also a merchant.
3. Descendants of Richard's son Abel Yeo (1644–1706) settled in Sampford Courtenay.
4. William was a party to various land transactions in Virginia in the period 1652–1674.