Samuel Yeo (1811–1874), was baptised at Kilkhampton by his parents James Yeo and Grace Francis. He married Nancy Prowse at East Stonehouse in 1834 and in due course emigrated to Prince Edward Island. They had sixteen children; their first six were born in England:
– Mary Jane Yeo (died as a child)
– Alice Yeo (died as a child)
– Ann Yeo (1835–1835)
– James Yeo (1836–1916, married Catherine McDonald, four children including Howard Sprague Yeo, 1863–1906)
– William Hamlin Yeo (1839–1895, married Annabella Hacker, five children)
– John Yeo (see below)
and the other ten in Prince Edward Island:
– Thomas Charles Prowse Yeo (1844–1918, married Rosamund Julia Doble and Eliza Ann Newson, no recorded children)
– Angelina Yeo (born 1844–1927, married Daniel Richard Cornish Boundy)
– Laurence Yeo (1848–1920, married Sarah Jane Birch, nine children)
– Titus Loman Yeo (1850–1923, married Harriet Sharpe, two children; for daughter Nancy Martha Yeo see Frank Alonzo Johnson and Nancy Martha Yeo)
– Jabez Yeo (1852–1935, married Sarah Jane Large, three children)
– Richard Henry Yeo (1854–1929, married Sarah Lydia Farrow, ten children including William Loman Yeo, 1897–1963)
– Lewis Albert Yeo (1855–1928, married Jane Hodgson)
– Caroline Alice Yeo (1858–1913, married William Robert Best)
– George Yeo (1859–1923, married Mary Ann Gillis, seven children)
– Mary Jane Yeo (1863–1954, married Donald Nicholson Forbes).
John Yeo (1841–1918, son of Samuel Yeo and Nancy Prowse) married Harriet Ann Ford. They had ten children:
– Margaret Yeo (born c1870)
– Angelina Kezia Clemens Yeo (1871–1907, moved to Maine, married Frank P. Burnham)
– Samuel Edward Brewer Yeo (see below)
– Thursa Yeo (1875–1921, married Duncan Henry Thompson)
– Isabella Saunders Yeo (1877–1969, married Charles Hubert Monkley)
– Robert Albert Yeo (born 1878, married Daisy Monkley, five children)
– Gretha Yeo (1884–1952, married Sterling Tucker)
– William Prouse Yeo (1886–1961, married Carrie Morrison, no recorded children)
– John Earle Yeo (1893–1975)
– Mildred Yeo (born 1895).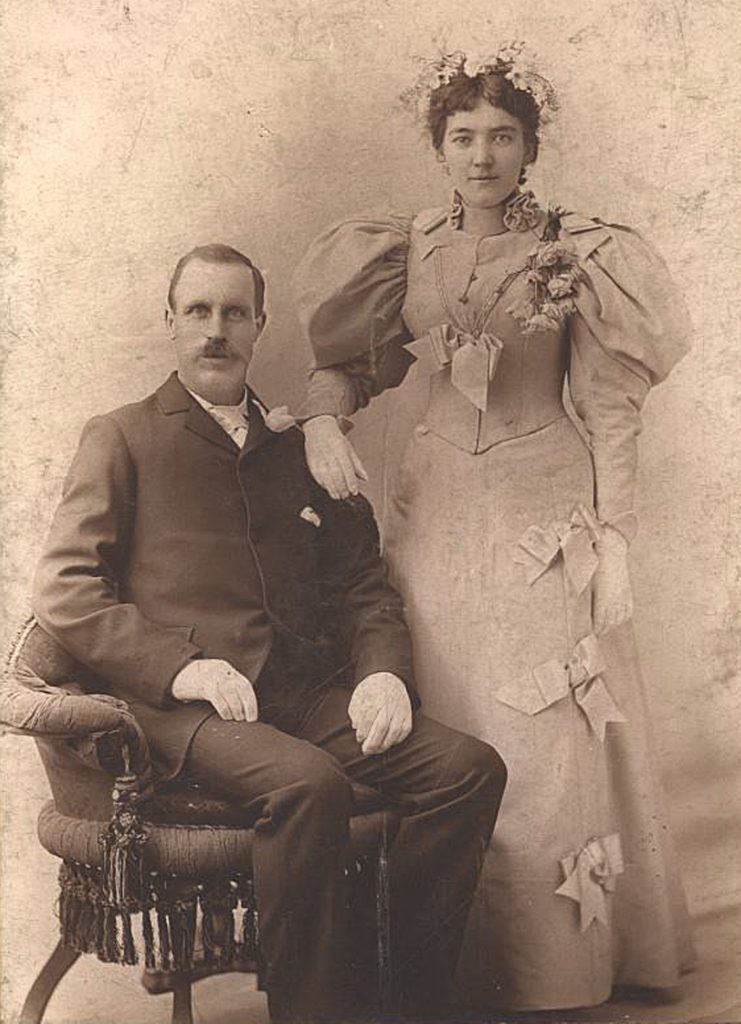 Samuel Edward Brewer Yeo (1874–1922, son of John Yeo and Harriet Ann Ford) moved south to Maine, where he married Jennie McCornell Rood in 1901. They had three sons:
– Wilbur Earl Yeo (born 1906, married Harriet McUrry, four children)
– John Wendell Yeo (1908–1981, married Ruth Gabel, three children)
– Warren Whitman Yeo (born 1913, married Margaret Claudine Morrison, two sons).
If you you have any links to this family, or can add to or correct the information shown above, please use the Contact Us page.